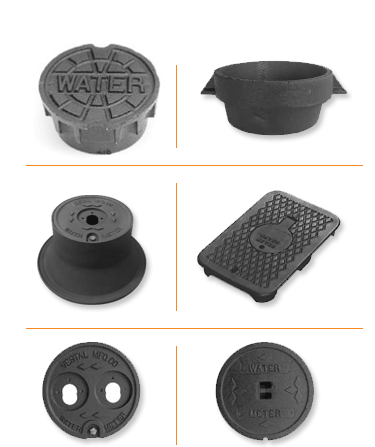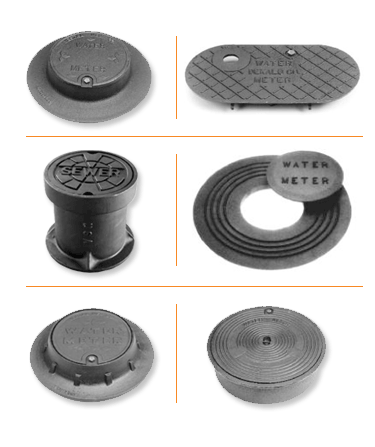 Vestal Municipal Castings
Download Vestal Manufacturing's municipal castings catalog.
Made in the U.S.A. — the proud standard of Vestal's gray iron castings for over 65 years.
Vestal manufactures a complete line of meter box rings and covers. Domestically produced in Sweetwater, Tennessee, all municipal castings conform to ASTM A48 Class 30 gray iron. We have many different water meter cover configurations to meet most all contractors and municipalities needs.
Meter Box Rings & Covers are available in the following configurations.
Sizes – 15", 18", 20", and 21". Larger pit sizes of 24", 30", and 36" can be reached with the use of a Vestal Expanda Ring.
Ring Types – Recessed, Non-Recessed, Double Ring, Spiked, and Flat.
Cover Types – Solid, Touch Read (TR), Two Touch Read (2TR), Recessed Touch Read (RTR), Two Recessed Touch Read (2RTR), Itron Touch Read, Extra Heavy, and Non-Locking.
Lettering – Standard covers are marked "Water Meter". Covers marked "Sewer Cleanout" are also available. Special logos and/or lettering are available with additional charges.
Locking – Covers feature a rotating "worm" type lock. Pentagon bolts are available in small size (SN/Small Nut) or large size (LN/Large Nut).
Vestal Manufacturing produces many other USA-Made municipal casting products.
Monitor Covers and Expanda Rings for larger pit sizes.
Valve box paving risers and valve box lids.
Sewer Cleanout Frames and Lids.
Rectangular and Round drop-in meter box lids.
Vestal products are also sold internationally by the finest dealers and distributors.
We hope that the above information has been of assistance. If you would like more information, our Sales Department can be reached at 1-800-456-9562.