About Vestal Manufacturing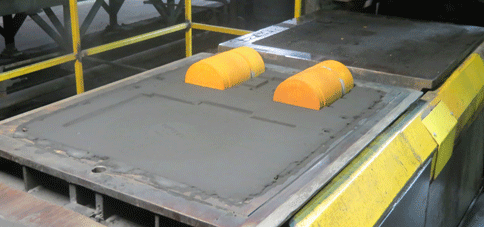 Both cored and no-cored castings are available on the Herman Mold Master. Flask size of 34" x 44" allows a wide variety of castings configurations and combinations.
In 1945, three brothers returned from World War II with a desire to start their own company. In 1946, the Vestal brothers founded Vestal Manufacturing Company. From the very beginning, the company has operated a gray iron foundry and a steel fabrication plant in Sweetwater, Tennessee. Early products included wood heating, cooking appliances and a line of agricultural products such as seed boxes and soil pulverizers. In the mid '50s the company began to manufacture cast iron and steel building products for the single family home construction market.
In 1964, the business was sold and the company became a subsidiary of the Jim Walter Corporation based in Tampa, Florida. The company remained a part of Walter Industries until 2004. At that time, the company was purchased from Walter Industries in a management buyout that keeps this proud Sweetwater, Tennessee firm with local ownership. The commitment from ownership and management is to continue the highest quality standards set sixty years ago by the Vestal brothers.
Today the company has over 210,000 square feet of manufacturing space for its facility located on 50 acres in the Sweetwater Industrial Park. The company is the world's largest producer of cast iron dampers, cleanout doors, ash dumps and fireplace grates.
In the mid eightes, the company began to produce light-weight, non-traffic bearing municipal castings. Currently, the company produces one of the most complete lines of light weight municipal castings in the United States.
Vestal has never lost sight of the original goal of being an industry leader in product quality, product selection and customer service — all at competitive prices. Today Vestal products are shipped all across the United States and throughout Canada.

Left: Smaller castings are tumble blasted and cleaned with a Pangborn Roto-Blast. Right: Larger castings are hung on trees and sent through cabinet blaster for cleaning.


Foundry Equipment & Facilities
AREA
103,000 sq. ft.
CAPACITY
120 Tons/Day
Ounces to 350 lbs.
High Production & Short Runs
TYPE IRON
Gray - Class 30, Class 35 by request
MELTING
3-15 Ton Coreless Induction Furnaces
Inside Storage for Scrap Metal

MOLDING

1-FBO 3 Roberts Sinto
20" X 26" X 8" over 8"
1-Herman Mold Master
34" X 44" X 12" over 12"
1-International Jolt Squeeze Line
34" X 56" X 10" over 8"

CORE MANUFACTURING

Shell Core - Dependable 200
Shell Core - Shalco U150, U180
Redford SF22
Isocure

CLEANING

1-Pangborn Spinner Hanger Cabinet Blast
1-Pangborn Table Blast
1-Pangborn Roto-Blast
7-30" Setco Snag Grinders

SAND SYSTEM

1-B&P 100 B Batch Muller
1-Simpson 22G Continuous Sand Muller
2-Hartley Moisture Controller

LABORATORY FACILITIES

Sand testing Equipment- Dietert
Compactibility
Green Strength
Moisture
C.E. Mini-Lab
1-Mini-Lab for Carbon & Silicone Test
1-Brinell Hardness Tester
1-Spectrometer
M.B. Sand Testing

PATTERN SHOP

Gating
Rigging
Repairs

PAINTING

Spray
Dip

ASSEMBLY CAPABILITY

Drilling
Tapping